Not really a ham spam but I did say I'd introduce my babies again
:D
So here they are in order of arrival:
First of all is my baby Willow, she's not so much a baby anymore but she is my heart-hammie. She's a Chinese and will be 2 in August. She came from P@H. She's the sweetest little hammie, she actually fell asleep on my the first day I got her.
Next is Rowan-Bear, my Satin Rex Golden Syrian. She'll be 2 in October and I got her from Bourne Valley Hamstery. Worlds most destructive hammie, she nearly ate her way out of a Mamble 100 rat cage, the Alexander cage had extremely tasty bars and the Ikea Detolf was just a place for sleeping in her opinion, she escaped from it twice. She's now happily settled in a 3ft escape-proof glass tank!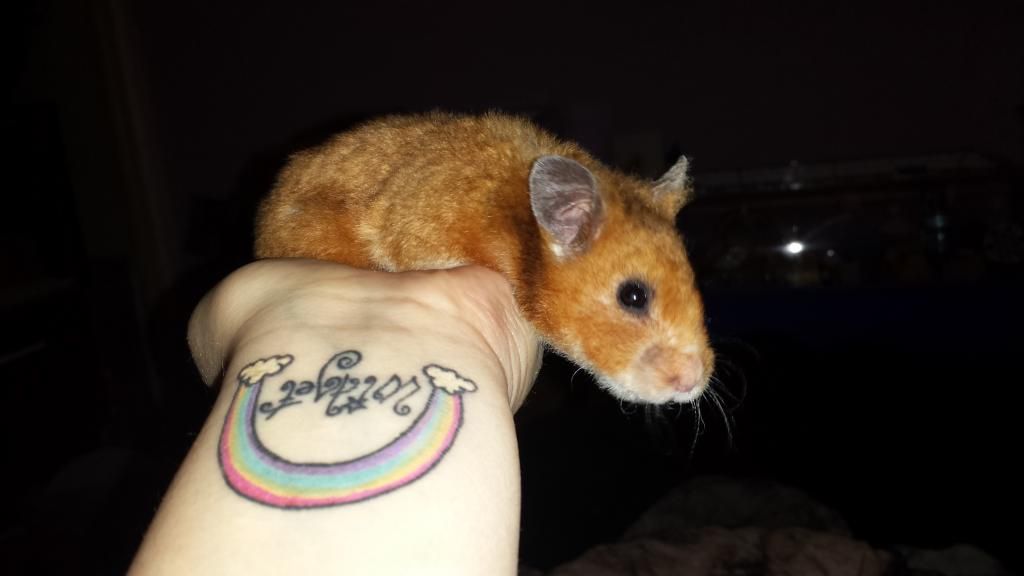 Then we have Skadi, my Sapphire Winter White. She'll be 1 on Sunday and is from Hamster Mischief. She is also quite literally a blob with legs and a face
:D
She takes after her mummy (me) because her favourite things are chocolate (hammy safe of course) and sleeping.
Next is Embla, my Black Eyed Cream Syrian. She's a rescue and the most well mannered hammie you could ever meet. I can put the entire treat tub in front of her, take the lid off and she'll sit and wait until I actually offer her a treat! She's my little old lady and she turned 2 in March. She's sadly succumbing to old age but at the moment she's happy
:)
(This pic was taken a couple of months ago when she was still in good condition)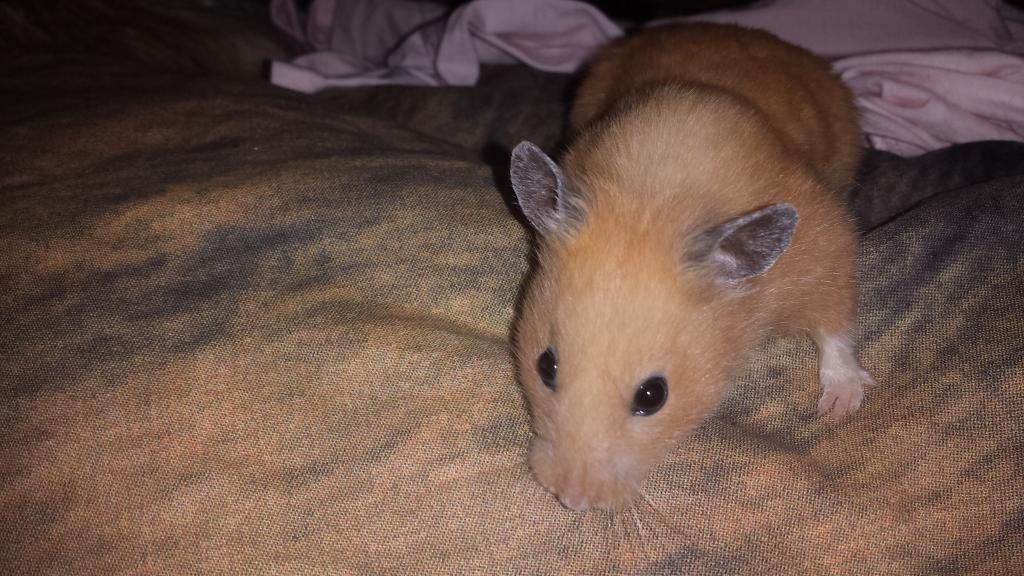 Then we have the craziest of the bunch, Eir who is another rescue from an accidental litter! She's another Syrian, Melanistic yellow and she throws herself around her cage like a little monkey! She also thinks bars and wooden wheels are very tasty and she ate half of a wooden house last year so is now only allowed plastic houses or open nests. She'll be 1 in July.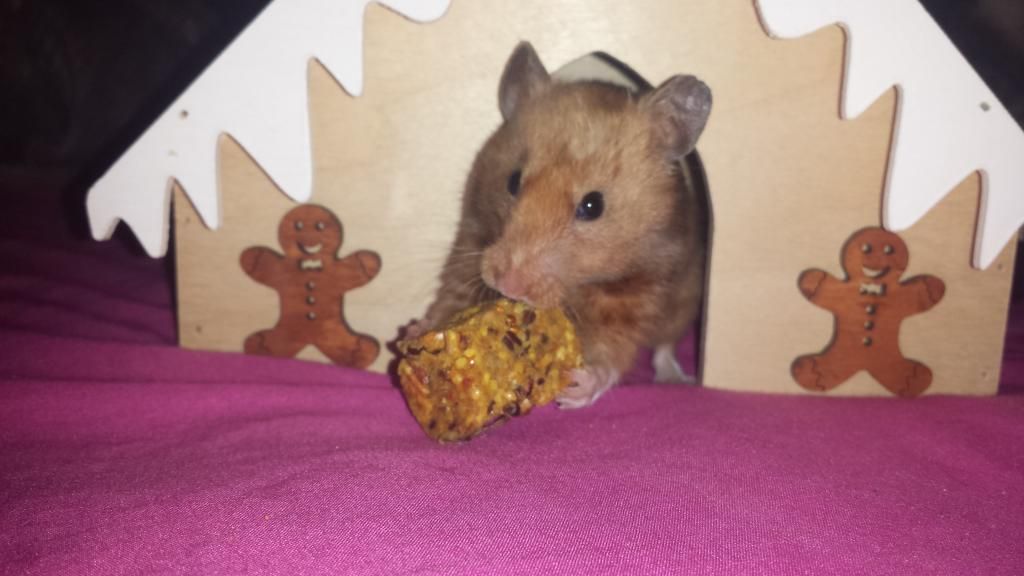 Next is little Freya who is a normal Winter White. She's from Lilliput Hamstery but is distantly related to Skadi. She wan't planned but me and my mum fell in love with her at Kingswinford Hamster show last year and so she came home. She'll be 1 in October and is my tiny baby, she's not become a big chunk like most Winter Whites do but her tinyness makes her that extra bit more lovable ^_^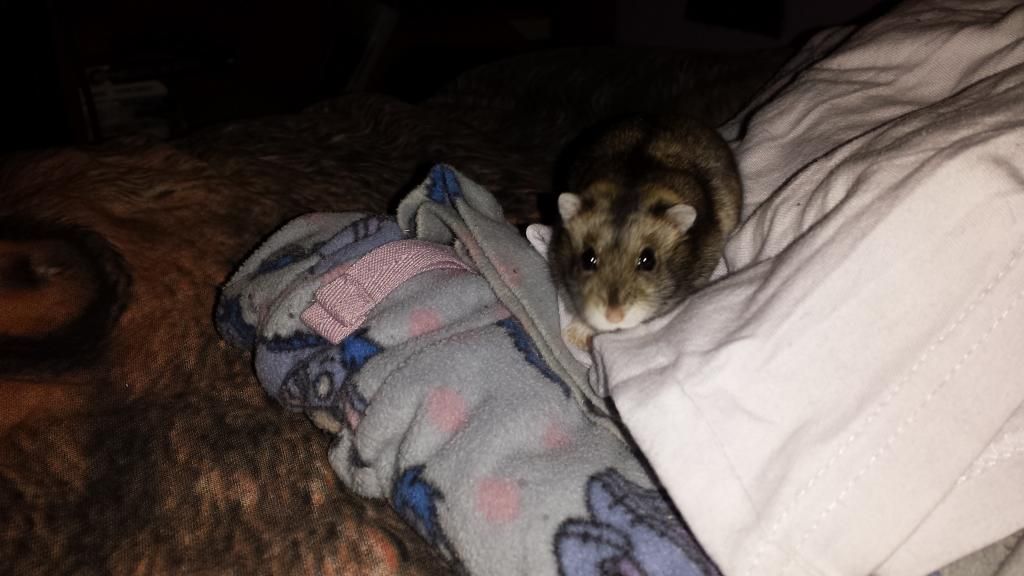 Finally we have little Loki. He's only been with me for about 2 weeks but he's already got me wrapped around his little paws. He's gone from screeching his little head off when handled to climbing out of the cage to me when I open it. He's only a baby by the looks of things but he's another rescue. His previous owner didn't know how old he was or what gender he was, all she knew was that she'd had him about a month so we've put him at around 18 weeks old. She didn't want him anymore because she was having to keep her cat out of the room and so I went to collect him, he had the tiniest cage and a wheel he could barely run in so his new cage is like a mansion to him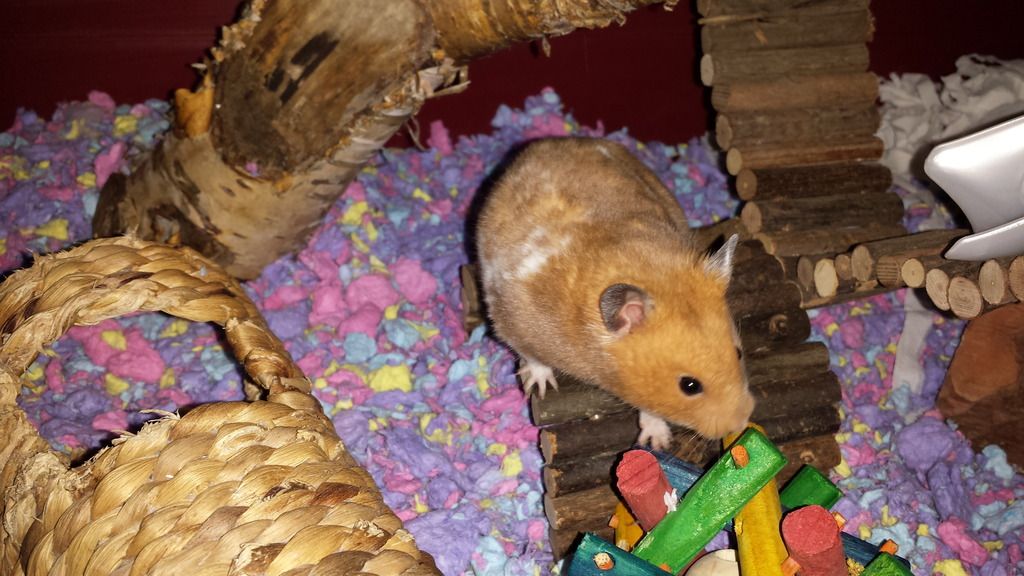 Anyway, that's my crazy bunch and I'm sure you'll hear plenty about them in future
:P
Tagged: