There have been several new additions this year and I haven't introduced any of them on here yet (well, except Norma, but I'll introduce her properly again now!!) So I thought you might appreciate a bit of photo spam
:D
>:D<
Not all the new additions had a long life, so I am going to concentrate on those that are here right now
:)
First off - Norma. Norma was in the Pets At Home adoption centre near me and had been handed in at a year old because the owner "couldn't look after her anymore." She's a lovely ham but a bit neurotic and doesn't believe in not getting her own way
:P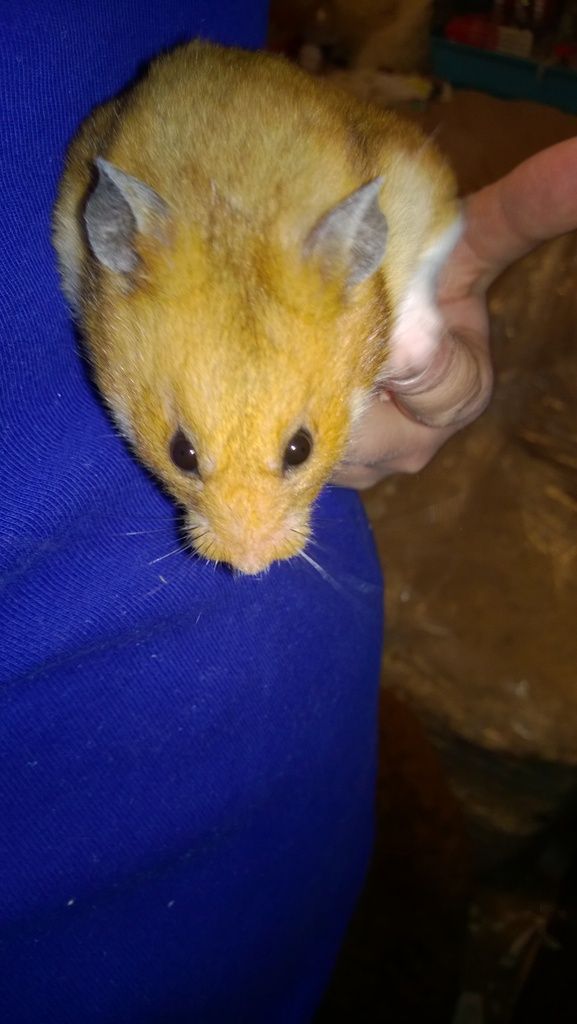 Then there is Mercury. I collected Mercury from a breeder during the summer with the intentions of him keeping another male company but Mercury has taken some time to mellow!! He's been neutered and finally settled down enough for me to put him in with little Fozzie (one of the little males I got from Baggymousers
:)
) He is a huge, smoochy boy who wants out every night for a cheek rub
:)
I'm convinced there may be something other than his being neutered that's led to his weight gain but he seems ok.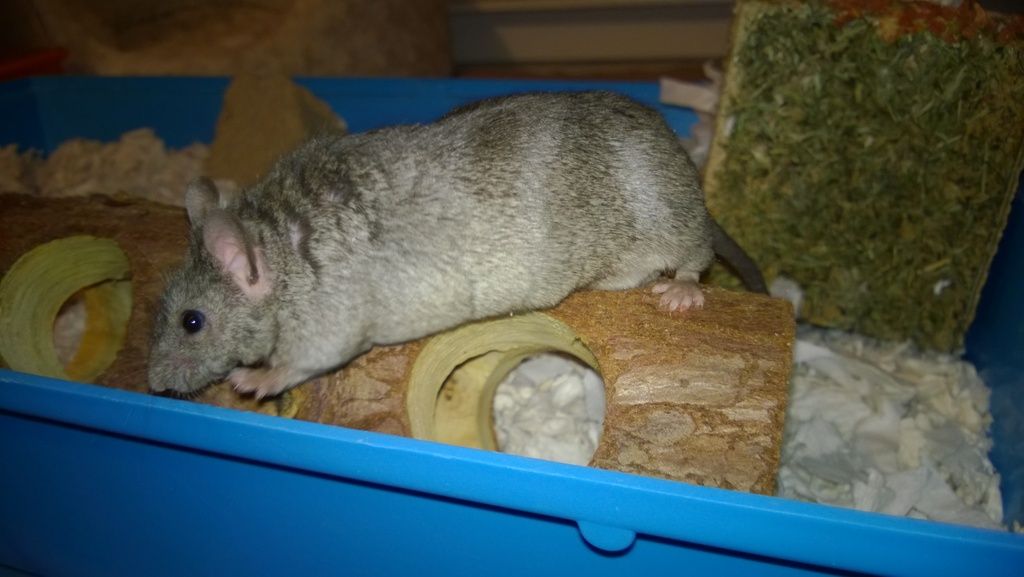 And this is Aladdin. I'd went into a pet shop a few towns over to have look att he tropical fish and was about to walk out in disgust when my mum shouted that I'd missed something. I went to look and she pointed out a mouse in the tiniest cage I have ever seen (not much bigger than an egg box) in a dark corner on top of, next to, in front of and basically surrounded by all the dangerous reptiles in the shop. The poor mouse was terrified, had no room to move and there were numerous bars of this so called cage with blood spattered on them (possibly from trying to escape I'm hoping and not anything else.) The pet shop owner commented on the mouse being part of what he was using to breed snake food in the back of the shop and any of the "pretty" ones he tried to sell. if they didn't sell they went back for snake food. I know, people see me coming. So he ended up coming home. It's taken almost 6 months of him being so terrified that he would attack anything near his cage or anything new put in it, but he now comes up to the bars and rests two paws on me to get a little sunflower seed
:)
He's a gorgeous boy - and he has absynian rosettes on his bum
:)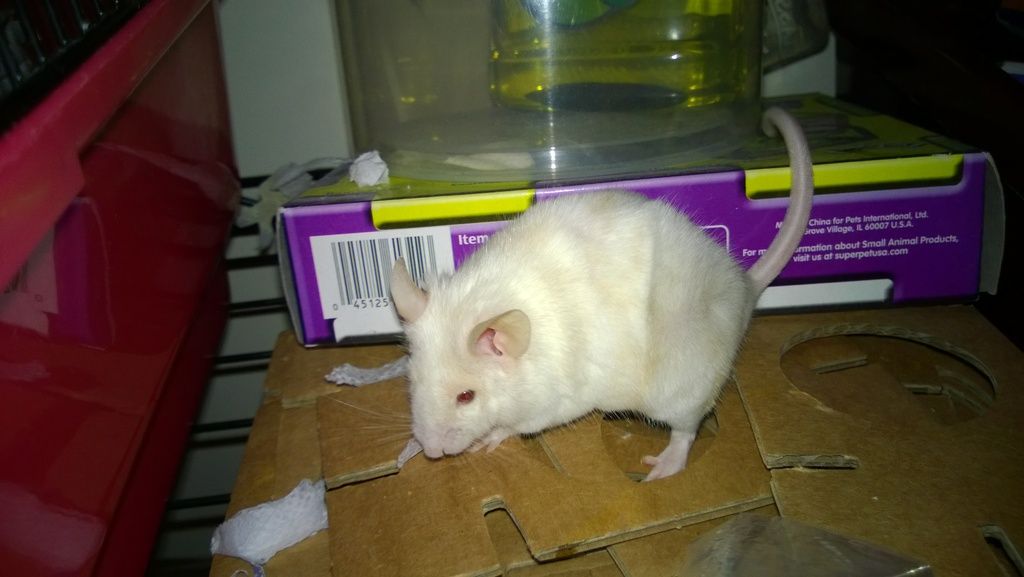 Then there is Flump - who I blame entirely on Racingmouse
:P
(Sorry April!!) A member of hamstercentral had taken on two hamsters that had been dumped on a neighbours doorstep by a child that was "bored" of them. The poor hamsters had been badly treated (taken out and forced to "play" with other hamsters, carried around in pockets to use as toys at friends houses) and although the member was able to take them in she was only able to keep one hamster. I took on Flump - she was a very nippy, unhappy little devil ham. It took time but eventually she let me pick her up with a glove and was fine for handling out the cage...by which time I discovered that "she" was actually a "he!" Flump still wont allow me to handle him in his cage but he is fine outside of it and actually enjoys a cuddle now. He has however been having a lot of problems with abscesses around his scent gland lately.
Then there are my newest additions, of which there are many. I made the mistake of looking on gumtree to try and find a female mouse or two to go in with one of my girl groups that has been struggling with losing a lot of their family members from tumours lately. I came across an advert and contaced the person, only to find they were a feeder breeder (she was actually really nice and for all I don't like why she was breeding the mice were kept in immaculately clean conditions with some toys, so I was quite impressed given the conditions I've seen in other feeder breeders set ups.) She had an empty freezer, and too many mice so was selling her "surplus" as pets. These are the mice I ended up taking (and I took on wayyyyy too many. And there will be another thread about them soon too
:(
)
So here are the boys:
Huey: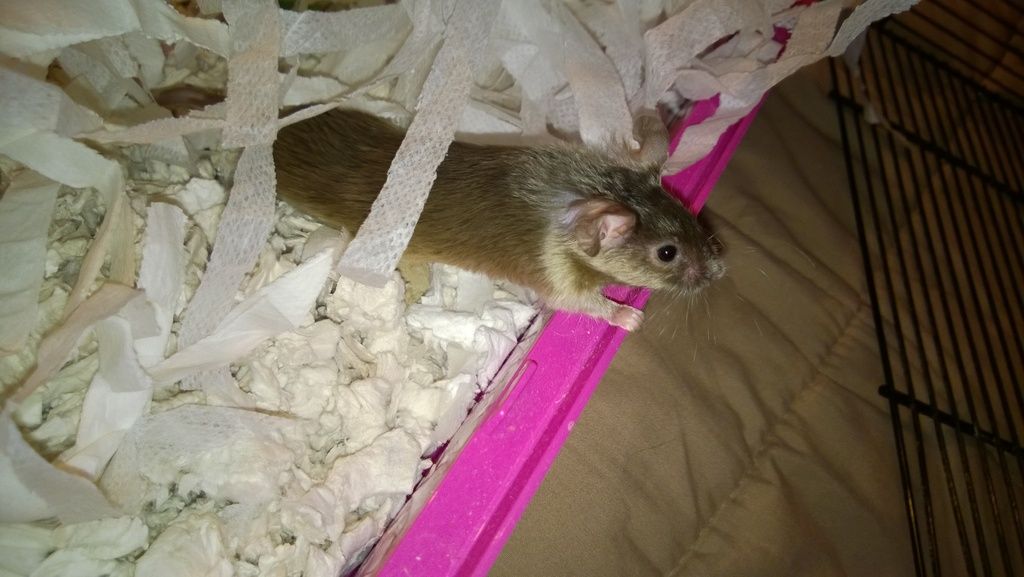 Dewey (top) and Louie (bottom)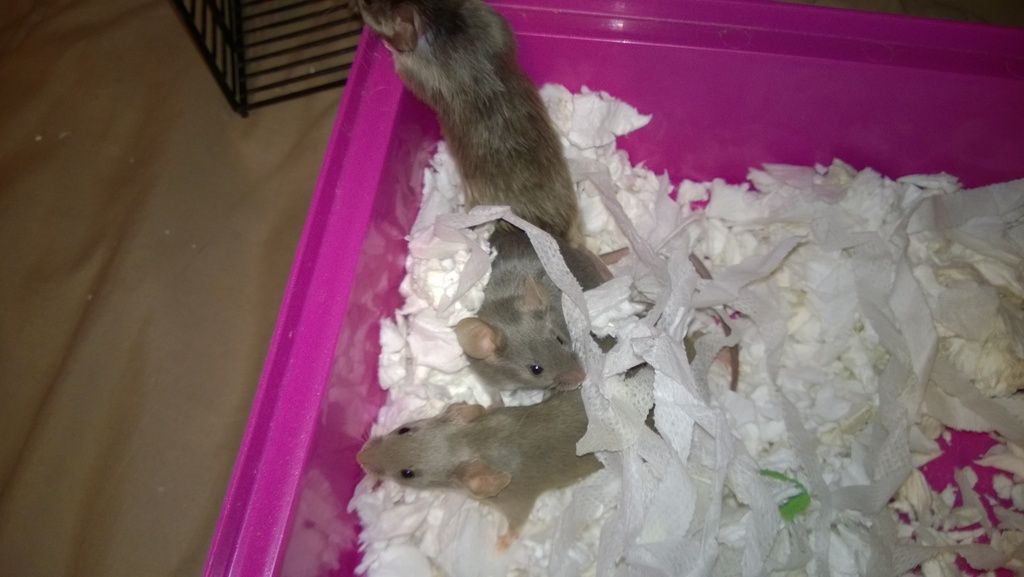 Ricicle: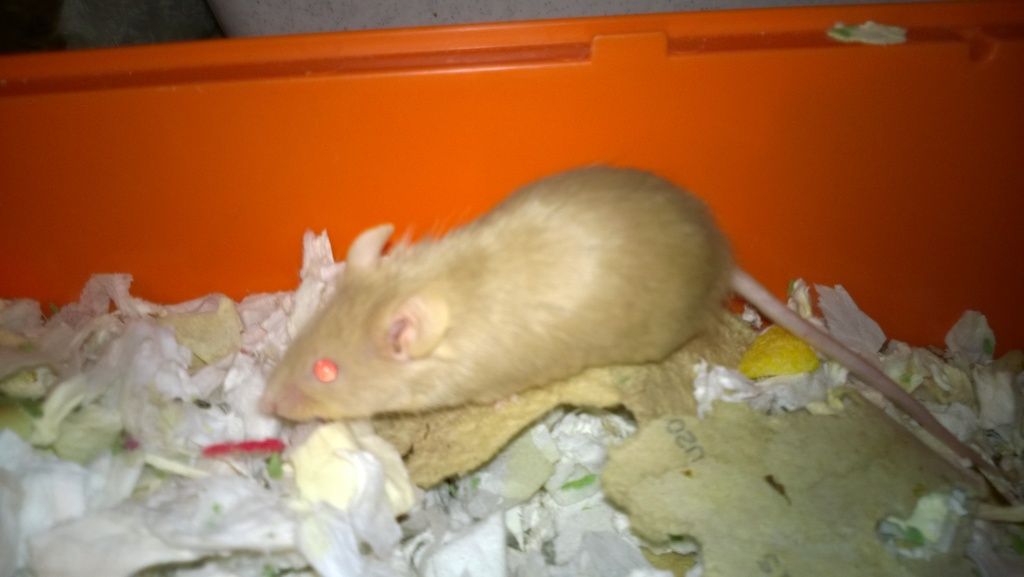 Crackle:
Snap: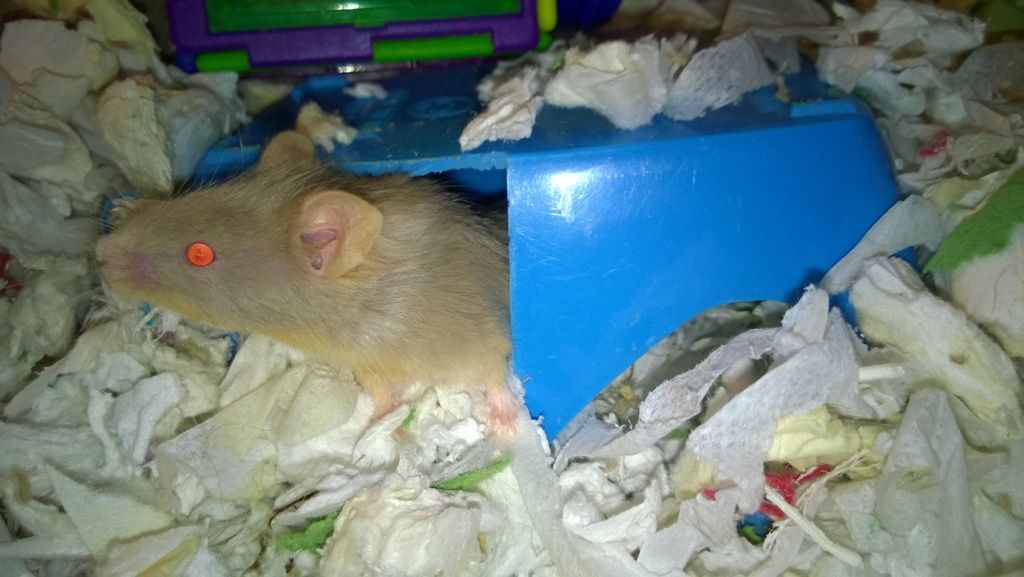 The girls:
Selina: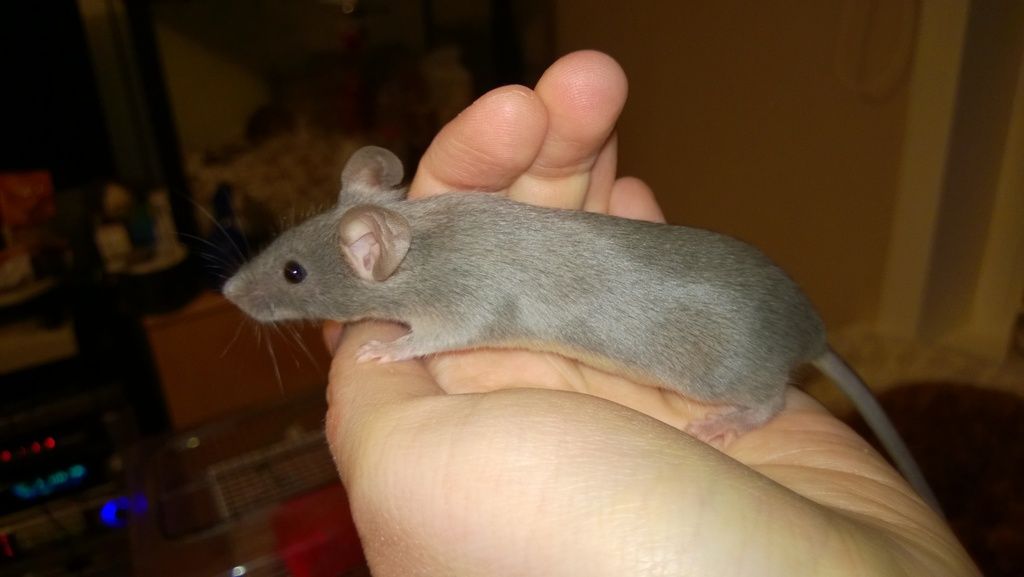 Peep (a little reverse Siamese
:)
Her nose, edge of her bum and edges of her legs turn white
:\">
)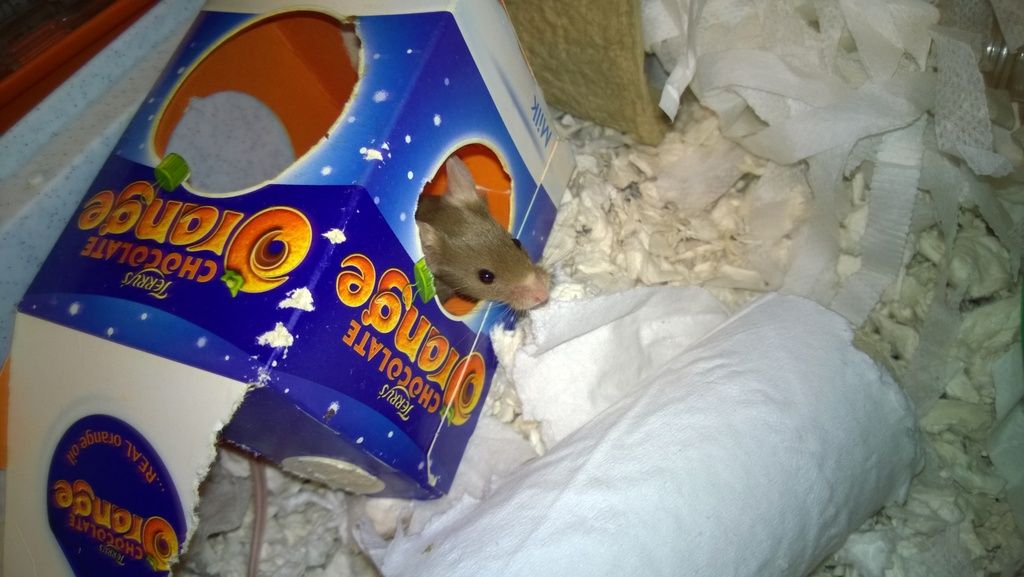 Turvy (she's really ill with a bad RI and is on baytril just now
:(
)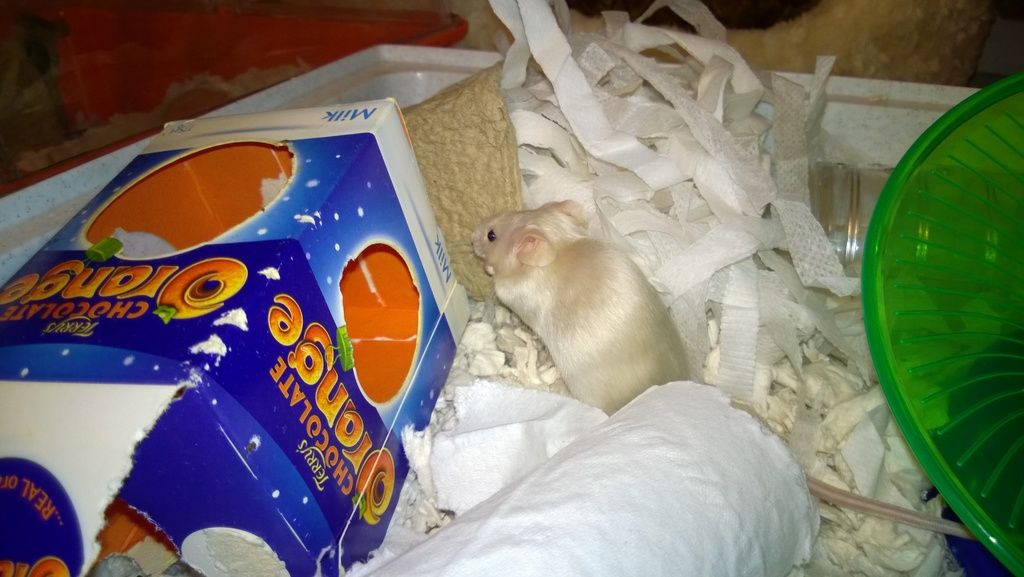 Topsy:
And these girls are the youngest of the ones I took away - they are all under 9 weeks old.
Winter: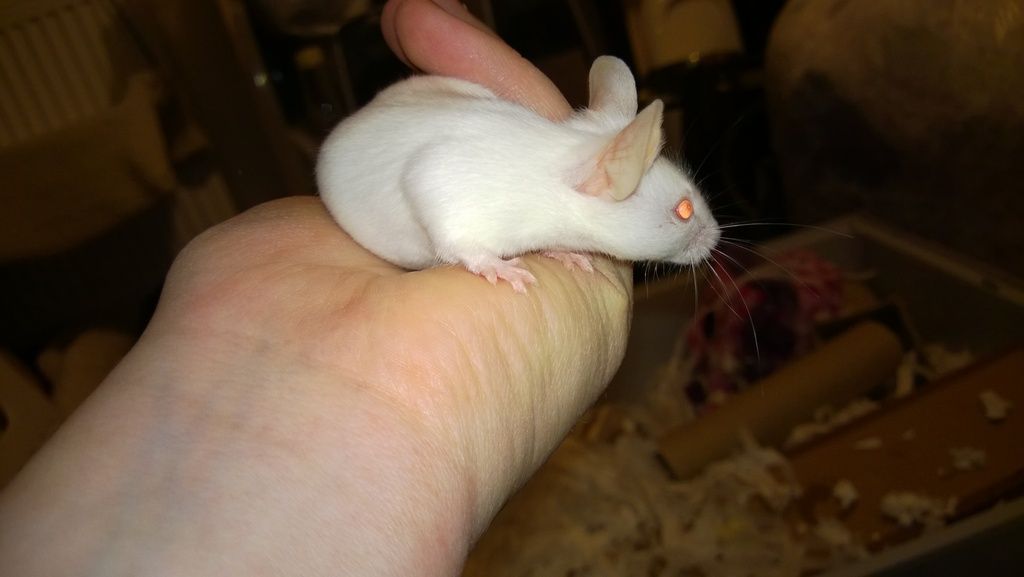 Fuzz (despite her age I've had to put her on baytril, she's been seriously ill since she arrived on Saturday and I thought I was going to lose her.)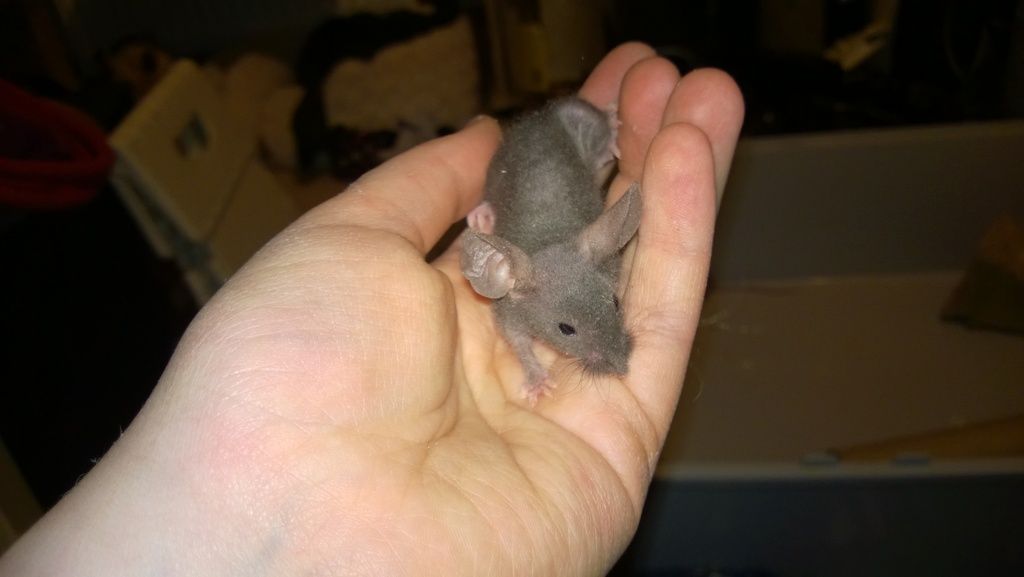 Copper:
Ebony:
Molly:
Pebbles:
And an unnamed girl: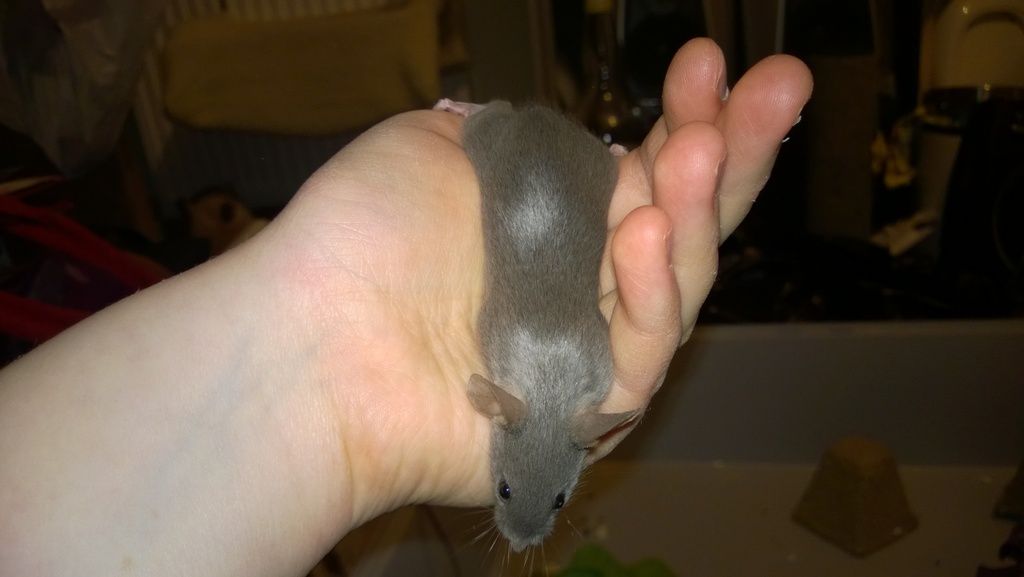 And the last of the new additions. This is Sylvester. I'd been walking past the hamster cages in PAH on Wednesday just before they closed and saw a really deformed little hamster with a domed head, shortened nose, and a strangely positioned eye. I couldn't face another heartbreak but decided that if Kat (who ran Scritches Rescue and breeds hams and mice under the name Doric) said that there were likely to be health issues and it wasn't just appearance then I would get him. She said there was a high risk of problems so I phoned the shop and asked him to put him aside until I could get down on Christmas Eve. I went down...and it turned out it was the wrong hamster
:(
The hamster I'd seen had been sold literally while I was being served at the checkout. I felt guilty about asking the staff member I knew to put him aside as they aren't supposed to and knew they had no cage for him now he'd been separated so ended up taking him. And he's been an amazing sweet, confident little ham who has (so far) been very calm and within 24 hours was climbing into my hand and wanting cuddles
:)
So those are the new additions...so far...!! I hope I haven't bored you all to tears
:P